London Miss Kay.O is a special Lady with a unique blend of skills. UK Adult Zone caught up with her to find out more from this martial artist turned Domme.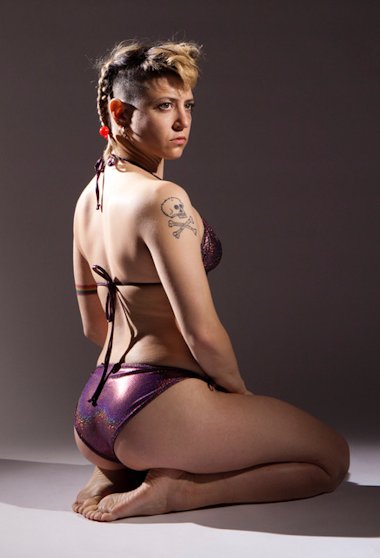 Fancy a Beatdown With London Miss Kay.O?
UKAdultZone: Would You kindly tell us a little about your background and how you became involved in Domination?
Miss Kay.O: I'd been going to fetish parties for a few years, as well as offering webcam services. So doing sessions in 'real life' seemed like the next step. It all happened quite organically. As a martial artist I had experience with wrestling and sparring, for example, so incorporating beatdowns into my sessions felt very natural.
UKAdultZone: What advice would you give to slaves who wish to serve you?
Miss Kay.O: It's always appreciated when a prospective slave explains the type of session they want, and what their hard limits are. If they're first timers, or simply unsure, then let me know! I'm always happy to help and experiment.
Explain what type of session they want, their hard limits, if they're not sure I'm happy to help them and happy to experiment but I detest 1. Very long detailed emails that ask me what will I do to them or too many details of a session that is not booked.
After the booking is confirmed I'm happy to go through everything.
UKAdultZone: Will you work from a script that someone brings to you when they meet with you?
Miss Kay.O:  Yes, of course. Even better if they can email it in advance!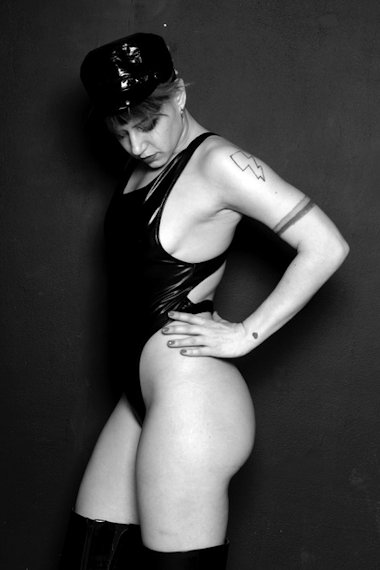 UKAdultZone: What are your favourite types of session?
Miss Kay.O:  Well, I particularly enjoy beatdowns and competitive wrestling. in which the loser (not me, of course) gets punished. Spat on, spanked, humiliated, or tortured in various ways. My fighting background gives me an edge when it comes to the physical aspects of domination and impact play. I feel very comfortable using my body in this way, and I'm very confident in my accuracy and control. I can push people to their limits safely.
UKAdultZone: Do you attend any clubs relating to BDSM/Fetish lifestyle?
Miss Kay.O:  Of course! I love taking a slave along too. I also work as a hostess at Bi-kink party.
UKAdultZone: What do you prefer to wear during sessions and what do most subs prefer to see you wear?
Miss Kay.O:  I'm famous for my for leotards. I have a collection of fetish wear, but I also like to be creative in my outfits. My style is playful, and geared towards the kind of physicality I bring to my sessions.
UKAdultZone: How would you describe your style of dominance?
Miss Kay.O:  Sassy. Cheeky. Naughty. I enjoy it too much not to smile, and I bring a sense of humour to my sessions, and encourage interaction too.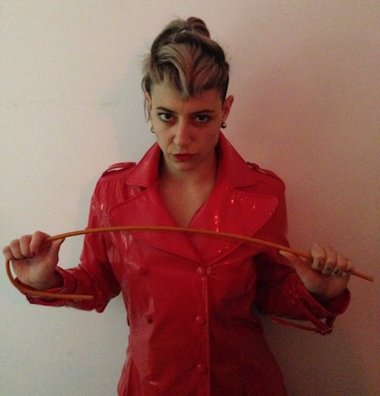 UKAdultZone: Do you also offer other services such as phone domination, email/online, training?
Miss Kay.O:  I offer webcam sessions and I recently had my first email session with a slave from Dubai. It was fun. I'm up for doing more!
UKAdultZone: What are your favourite gifts from a slave?
Miss Kay.O:  Any fighting or fetish gear. I gave up refined sugar so chocolates are a big no. Sadly. Massages are always welcome.
UKAdultZone: What advice would you give to a novice who has never visited a Mistress before?
Miss Kay.O:  Honesty is always the best policy. They should never be scared to tell me it's their first time. Quite the opposite. Being open is so important. It will mean for a better session and a better relationship. I am professional, non-judgemental and will be able to best make real their fantasy, and offer them a truly satisfying session.
UKAdultZone: Do You own any 24/7 slaves?
Miss Kay.O: Not right now. I'm waiting for a worthy candidate.
UKAdultZone: What about those slaves looking for a long term serious commitment of slavery to You. What would be Your requirements of such a slave?
Miss Kay.O: I receive lots of impersonal emails from subs asking to be my slaves. And it's clear I'm one of many domes they've sent the same message to. I will usually ignore them. A long term commitment is something I would consider only after I have met someone, and only when there is genuine chemistry. Devotion, honesty and respect are necessary.
UKAdultZone: How do you make use of Social Media or is it something you don't have time for?
Miss Kay.O:  I tweet daily pictures of myself and sometimes of my sessions, of my training or just to share my news. The blog is coming soon!
UKAdultZone: How can someone find more details about you and how to serve you?
Miss Kay.O:  Feel free to check out my website – misskayo.co.uk, follow me on twitter (@misskayorules) or send me an email at misskayodominates@hotmail.com.