West Midlands Mistress Legartha has an unusual name and a passion for dominating men of all ages. UK Adult Zone caught up with Mistress Lagertha to find out more and how you might get to meet this Lady.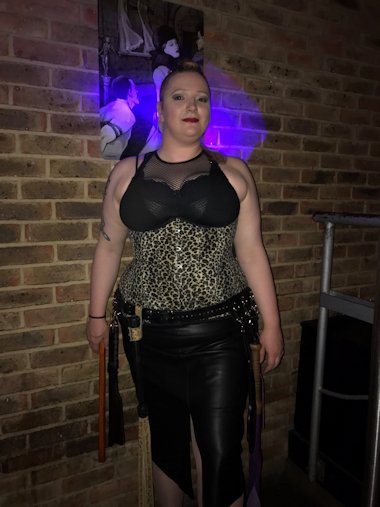 Straight Talking West Midlands Mistress Legartha
UKAdultZone: Would You kindly tell us a little about your background and how you became involved in Domination?
Mistress Lagertha: It was a bit of a two pronged approach. I discovered I liked humiliating people in positions of authority power and responsibility, after a guy told me he enjoyed my doing it that to him. I carried on tormenting him to get my own way. Then a friend who thought I was already aware and a part of the kink scene, discovered that it wasn't the case, so introduced me to it.
UKAdultZone: What advise would you give to slaves who wish to serve you?
Mistress Lagertha: Don't be rude, don't take the piss, don't be tardy.
Do your research, see if my website tells you what you need to know, be polite and courteous and if you want extra credit buy me a present – gifts seriously make me very happy like a kid on a snow day. There will soon be a blog post and a video made available through my site detailing exactly what I and most other Dominant women expect.
UKAdultZone: Will you work from a script that someone brings to you when they meet with you?
Mistress Lagertha: If there is a choice I prefer to be more fluid, but once a person has decided on myself for their session and booked it first – very important point that. I will happily discuss session wants and needs down to if scripting is appropriate or not.
UKAdultZone: What are your favourite types of session?
Mistress Lagertha: Anything that is a mutual enjoyment for myself and the paying sub/slave/pet/toy.
UKAdultZone: Do you attend any clubs relating to BDSM/Fetish lifestyle?
Mistress Lagertha: I do indeed and on a weekly basis for local events and monthly for London ones.
UKAdultZone: What do you prefer to wear during sessions and what do most subs prefer to see you wear?
Mistress Lagertha: Subs don't seem to have any unified consensus on my appearance, which I enjoy greatly. Some days its a fetish take on skirt and top to as fetish as I want to make it, to daily clothes to fit better with aunty or teacher spanking sessions.
UKAdultZone: How would you describe your style of dominance?
Mistress Lagertha: I've recently been told I am male Dom inside a female appearance, that I'm soft and caring when I need be with the ability to fool people I'm really quite fluffy – only we all know thats not true because at the right times I'm the evil sadistic loveliness all sub/slave/pet/toy's desire.
From my own perspective when it matters I'm an evil cow who will amuse myself with others predicaments, including laughing at you when you're in pain. But I will get very annoyed with you, if you don't let me look after you afterwards and make sure you've come back from subbie goo land, before I let you go. In english you will sit down have a drink and a chat before I'll allow you to leave.
UKAdultZone: Do you also offer other services such as phone domination, email/online, training?
Mistress Lagertha: Yes, for phone and online I can be found on the Adultwork website as MistressLagertha. I also offer Skype sessions, details on my website. As for the new and courteous yes I offer training but also retraining for those who have become a little wayward.
UKAdultZone: What are the things You most like and dislike in a slave?
Mistress Lagertha: LIKES sub/slave's who have a voice and are able to effectively communicate at appropriate times, their wants and needs as well as any issues either pre session during the session or after. A sub/slave who is readable by their reactions – twitches squeaks giggles etc; those who are dead pan silent are hard to get a read on – and I monitor reactions to know how far I can push people safely.
DISLIKES sub/slave's who dictate, who hate my time rather than be honest with me, who pester for things I don't offer, who expect me to free to talk to them for hours on end online about anything except their booking, this one annoys me the most – those who think being a Mistress means I'm also an escort.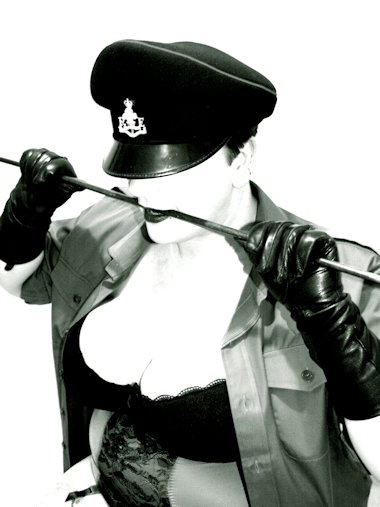 UKAdultZone: What song do you listen to that makes you feel strong?
Mistress Lagertha: There is no single song, so this would be too hard to answer and give an accurate sense of myself.
UKAdultZone: What are Your favourite gifts from a slave?
Mistress Lagertha: The gift itself but especially thoughtful ones. Of course toys and equipment are the most useful but anything especially for me that they have worked out I like want or need are the best.
UKAdultZone: What advice would you give to a novice who has never visited a Mistress before?
Mistress Lagertha: Don't harass us, be patient and respectful. We don't want or need dick or tit pictures unless we have asked for them. Be clear with your communication, if you don't know or understand ask for an explanation. Be open and honest with your chosen Mistress, if she is the right one nothing will shock her and we will be calm and patient with your initial nerves or anxiety and help guide you through it.
UKAdultZone: Do You own any 24/7 slaves?
Mistress Lagertha: I currently have two collard sub's and one in training.
UKAdultZone: What about those slaves looking for a long term serious commitment of slavery to You. What would be Your requirements of such a slave?
Mistress Lagertha: Depends on the person and situation. Long term commitment to regular paid sessions at a times to suit the sub/slave, would become more of an open ended relationship where if collard they would have rules for play with others in my absence. If the right set of circumstances fell into line and a sub/slave would fit into my 24/7 lifestyle. I would make them a conditional offer of service and negotiate terms with them, so we both know what to expect out of what we can provide in time and commitment to each other.
UKAdultZone: How do you make use of Social Media or is it something you don't have time for?
Mistress Lagertha: I see it as an advertising tool. When the moments present themselves I'll post snippets of my daily life. But I'll also use it to chat with net savvy subs who have booked a session or want to learn something from me.
UKAdultZone: How can someone find more details about you and how to serve you?
Mistress Lagertha: See my website, it is all on there www.mistresslagertha.com
You can also find Mistress Lagertha at UK Adult Zone. View Mistress Lagertha Profile.