Miss Ivy is a London Dominatrix with a vast range of talents. With a profile on UK Adult Zone that introduces herself as"…someone who is safe, yet beautifully sadistic..", we thought it would be nice to get to know her better. In this interview with a delectable London Mistress, we find out why and how a slave or sub can serve this Lady.
UKAdultZone: Would You kindly tell us a little about your background and how you became involved in Domination?
Mistress Ivy: I have always had a fascination with control and the erotic energy that power control and dominance can have. I have always enjoyed the psychological aspect of playing these games and as I learned more about BDSM I acquired the physical skills needed as well. I enjoyed having men running around after me way before I got into doing this professionally.
UKAdultZone: What advise would you give to slaves who wish to serve you?
Mistress Ivy: I would say be very clear, if looking to book a session with me give me as much details about you, you're experience and fantasies as you possibly can. BDSM starts in the mind and the more I know about you the better your session will be.
UKAdultZone: Will you work from a script that someone brings to you when they meet with you?
Mistress Ivy: Very happy to work from a script to some extent, however I do find when people are too focused on the script it can be a distraction from the natural flow of the session. However as a trained actress I very much enjoy a script for a role play based session, it can help me get a clear idea of what it is you are looking for.
UKAdultZone: What are your favourite types of session?
Mistress Ivy: I have my specialities which I list on my website, however every session is so different. I find I have different connections with different people so I wouldn't say I have one specific favourite type. If I had to choose probably spanking/corporal punishment. ( I am excellent with the cane.) I also have insane watersports skills!! If you want to understand what that means I would suggest making a booking.
UKAdultZone: Do you attend any clubs relating to BDSM/Fetish lifestyle?
Mistress Ivy: I do yes, I often go to LAM to stock up on kinky toys to add to my playroom, I also go to the Femdom Club.
UKAdultZone: What do you prefer to wear during sessions and what do most subs prefer to see you wear?
Mistress Ivy: Oddly enough I feel very in control not wearing much, not only do I find it physically comfortable I enjoy the teasing element that not wearing much can have during the session. As for my subs it really depends on what kind of session we are doing. Again usually not much though, that way I can have access to all of you! Although I do have a preference for pulling your underwear down myself.
UKAdultZone: How would you describe your style of dominance? I can be sadistic, but that doesn't mean necessarily delivering pain. I enjoy taking full control, I like that feeling of knowing you are totally at my mercy.
Mistress Ivy:
UKAdultZone: Do you also offer other services such as phone domination, email/online, training?
Mistress Ivy: I do indeed, I have a whole page on my website where you can find out more information on that, I enjoy WhatsApp, video and phone chat sessions. Email also works for me.
UKAdultZone: What are the things You most like and dislike in a slave?
Mistress Ivy: I like genuine submission, I want you to genuinely want to please me. I find entitlement, extreme neediness and demanding subs really more difficult, I find these are the people who want to submit but struggle with letting go of control. Be assured, if you approach me with that attitude you will be put in your place. But Generally I like respectful nice people to play with, the better you communicate with me the better your session will be.
UKAdultZone: What song do you listen to that makes you feel strong? I really don't have a specific song that makes me feel strong, I often enjoy playing classical music in my sessions.
UKAdultZone: What are Your favourite gifts from a slave?
Mistress Ivy: Things where thought has gone into it. I once had a slave get me a beautiful tea set as he knew I loved tea which I thought was very sweet. Saying that I also love shoes and things to wear, but when I can tell thought has gone into something I like that. If your stuck for ideas I have an amazon wishlist. You can find that on my website.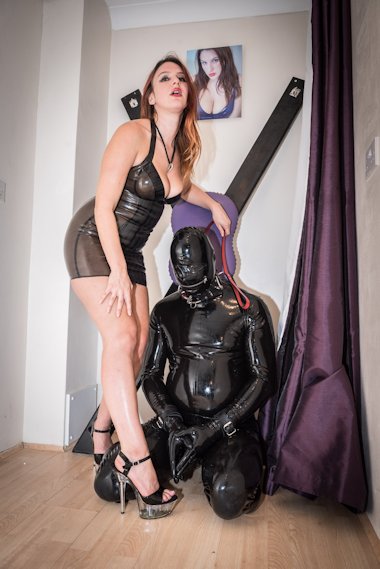 UKAdultZone: What advice would you give to a novice who has never visited a Mistress before?
Mistress Ivy: Try to be clear on what you are looking for, If you are not sure then maybe list some interests. I always have time at the beginning of sessions for newbies to have a tea/drink and a chat to get to understand each other before we start playing, it can be overwhelming seeing a Mistress for the first time so I like to make sure you feel safe and trust has been established before we start playing.
UKAdultZone: Do You own any 24/7 slaves?
Mistress Ivy: Kind of, I have had slave contracts with a couple of people. I find that having that level commitment can make you very close with someone and overtime they have become very close friends. I am incredibly fussy about who I make these commitments to, we would need to get to know each other rather well first, I would need to know you are trustworthy and reliable.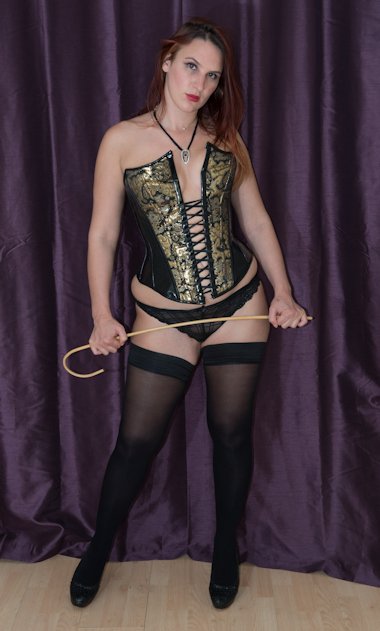 UKAdultZone: What about those slaves looking for a long term serious commitment of slavery to You. What would be Your requirements of such a slave?
Mistress Ivy: I would need to know the person very well, it is a level of responsibility I will only take on if I feel like we really click and it feels right.
Q. How do you make use of Social Media or is it something you don't have time for?
Mistress Ivy: I use twitter a bit but to be completely honest I am not big on social media, I prefer to spend my time and energy on real life sessions.
UKAdultZone: How can someone find more details about you and how to serve you?
Mistress Ivy: You can visit my website at www.mistressivy.co.uk or my UK Adult Zone profile.