Bristol Mistress Silver took some time out of her busy schedule to join UK Adult Zone and we took the opportunity to get to know her better.
In this interview with Bristol Mistress Silver, we find out how she got started and how far she takes her sessions.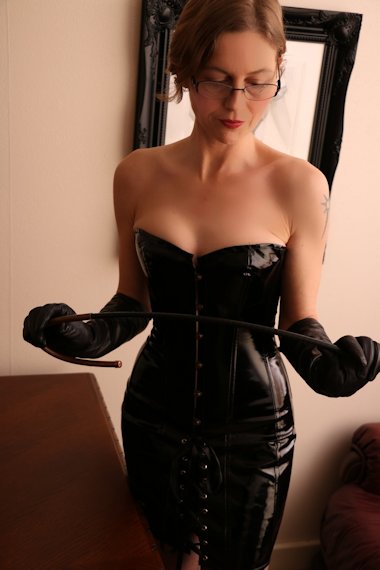 Getting to Know Bristol Mistress Silver
UKAdultZone: Would You kindly tell us a little about your background and how you became involved in Domination?
Mistress Silver: I've led a very maverick and adventurous life. I make a point of taking the road less traveled. I'm extremely independent, strong-willed, experimental and routine kills me! In the end, I was having difficulty holding down a job, partly as a result of my own choices and personality but also due to my inability to tolerate the ruthless degradation of working conditions, rights, pay and dignity I have witnessed during my lifetime. Then a friend invited me to train as a dominatrix at her dungeon and I've never looked back. I find it completely fascinating. I love the autonomy, the intimacy, the creativity and I also find it very healing work.
UKAdultZone: What advise would you give to slaves who wish to serve you?
Mistress Silver: Be yourself, be honest and be respectful of my time, my energy and my private life.
UKAdultZone: Will you work from a script that someone brings to you when they meet with you?
Mistress Silver: Definitely, although it's better to have it in advance of a session! I'm? honoured when someone shares a detailed fantasy with me. I am educated in the humanities and the performing arts, so I get a real kick out of the challenge of creating more complex scenes with someone.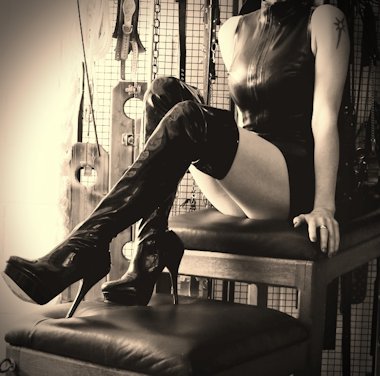 UKAdultZone; What are your favourite types of session?
Mistress Silver: I love all types of session and most types of play.
UKAdultZone: Do you attend any clubs relating to BDSM/Fetish lifestyle?
Mistress Silver: No. I don't enjoy big social gatherings and I am not a fan of cliques and scenes.
UKAdultZone: What do you prefer to wear during sessions and what do most subs prefer to see you wear?
Mistress Silver: Sometimes subs will request a particular item or a particular material, but most often they like me in whatever I wear! Rubber is great because I can be very agile in a session. I usually wear high heeled boots but I will frequently end up barefoot.
UKAdultZone: How would you describe your style of dominance?
Mistress Silver: I am a playful, sensual dominatrix. I love to own a body so I am pretty tactile. I love strapon, anal play and tease. For those who like pain or humiliation, I am also sadistic. Part of that sadism is that dark little dance between being gentle and sensual, and cold and heartless.
UKAdultZone: Do you also offer other services such as phone domination, email/online, training?
Mistress Silver: I prefer face to face sessions, but I have done phone domination. I am happy to do email or text domination. And I am considering Skype.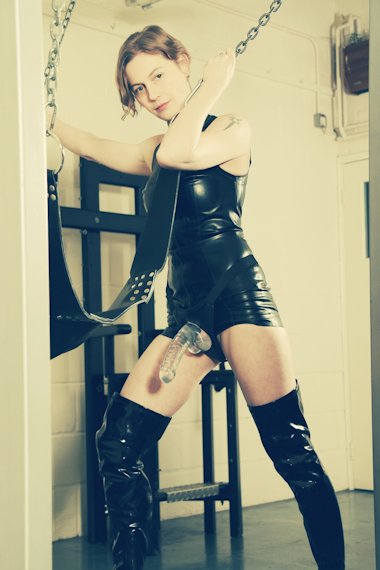 UKAdultZone: What are the things You most like and dislike in a slave?
Mistress Silver: I like honest, punctual, reliable, vocal and experimental slaves. I dislike servility, lateness and people who try to get my services for free.
UKAdultZone: What song do you listen to that makes you feel strong?
Mistress Silver: I wouldn't play these much in a session, but I love drum and bass, and breakcore. My favourite album is Rossz Csillag by Venetian Snares.
UKAdultZone: What are Your favourite gifts from a slave?
Mistress Silver: I am just as delighted with a handmade gift as an expensive one. It is the thought that counts.
UKAdultZone: What advice would you give to a novice who has never visited a Mistress before?
Mistress Silver: Do your research and ring your chosen Mistress so you can get a feel for each other. It's fine to not know quite what you want, but it is better to choose one or two things you want to try and then research those too. The clearer you can be with the Mistress, the better, especially with something like humiliation which is profoundly personal. I want you to have a great session…and I want to have a great session! One or two hours is good for a first session. I offer half an hour on a Sunday, but this goes in a flash.
UKAdultZone: Do You own any 24/7 slaves?
Mistress Silver: No.
UKAdultZone: What about those slaves looking for a long term serious commitment of slavery to You. What would be Your requirements of such a slave?
Mistress Silver: Versatility, honesty, dependability, humour, level-headedness. I do expect some financial contribution – this can be a token gesture, I don't want to exclude anyone.
UKAdultZone; How do you make use of Social Media or is it something you don't have time for?
Mistress Silver: I am not very comfortable with Social Media as I didn't grow up with it and still panic when I press Send! I also find it becomes a little addictive. But it is also a great resource. Currently I use Twitter.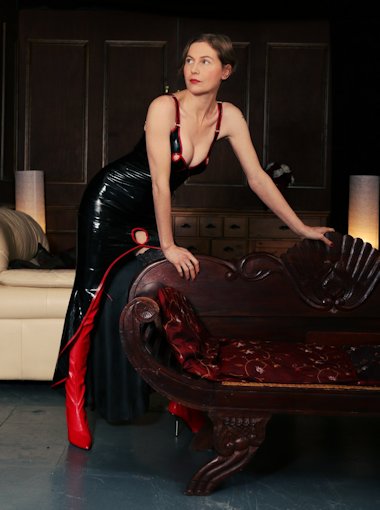 UKAdultZone: How can someone find more details about you and how to serve you?
Mistress Silver: You can email me at mistress_silver@riseup.net or contact me through my website mistresssilver.co.uk
Do you want to find out more about Mistress Silver and request a meeting? Then View Mistress Silvers Profile.