We recently caught up with Miss Ela Winters, a wonderful Dominatrix in London. As always, we asked her a few probing questions to help you get to know this sadistic Mistress a little better.
Read on to discover how you might serve Miss Ela Winters.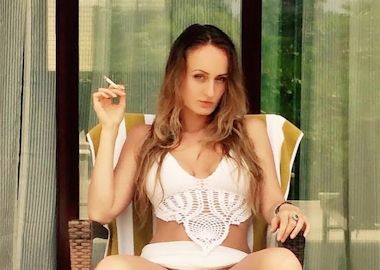 UKAdultZone: Would You kindly tell us a little about your background and how you became involved in Domination?
Miss Ela Winters: I'm 32 yo Latvian, residing in UK for nearly 10 years. My professional background is in PR and Advertising. Before I moved to UK during financial crisis in Latvia I was working as advertising project manager and PA of the owner of the company. Moved to UK to Escape depressing and poor work conditions in Latvia. Lived and worked together with friends for various companies till I finally decided to give it a go in Adult Film industry. An adventure that lead me to BDSM scene. I was shooting for MMAXXX productions in Walsall. The studio was set up in one of the most iconic BDSM studios called The Facility, where my curiosity led to witness one of the BDSM sessions held by wonderful Lady Lucea… I think my life changed its course the very same day.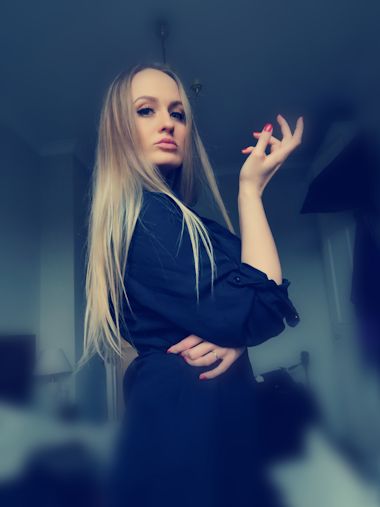 UKAdultZone: What advise would you give to slaves who wish to serve you?
Miss Ela Winters: If you are genuinely respectful and acknowledge that 'you need me' not other way around, then don't ever be afraid or ashamed to get in touch. I can almost smell time wasters and insecure wanna be Alfas. However as an empath, I am very understanding for the right people. My rules are very simple.. Read the information I have provided you with and follow instructions and I will treat you with the respect you deserve in return.
UKAdultZone: Will you work from a script that someone brings to you when they meet with you?
Miss Ela Winters: I love new challenges and as a natural born actress, I also appreciate a good script and a writer who creates it. I am collecting a good read that i have played out with my subs. Maybe one day we can put a book together…?
UKAdultZone: What are your favourite types of session?
Miss Ela Winters: My absolute favourite is and always will be CBT and ball busting… My first BDSM experience is still my favourite. Also CP is like a dying dinosaur in fetish scene… I don't get to do it often enough… Sometimes I miss a good caning.
UKAdultZone: Do you attend any clubs relating to BDSM/Fetish lifestyle?
Miss Ela Winters: Sadly haven't managed my time well enough due to taking up new qualification challenges and business ventures. Simply don't have enough time.
UKAdultZone: What do you prefer to wear during sessions and what do most subs prefer to see you wear?
Miss Ela Winters: Seems like subs love me in anything really… I love a comfortable lingerie to be fair… Latex is beautiful, but my skin needs air.
UKAdultZone: How would you describe your style of dominance?
Miss Ela Winters: I would say I'm unpredictable… A lot of time I see my boys twitch as I make a sharper movements… I love to see my slave on the edge. I tend to observe while I tease and slowly push their limits… Test their senses and triggers in a sensual manner.
UKAdultZone: Do you also offer other services such as phone domination, email/online, training?
Miss Ela Winters: I do offer that,, however I don't have much experience in this field. I have a feeling, I'm more of a face to face domme as I need that body language communication.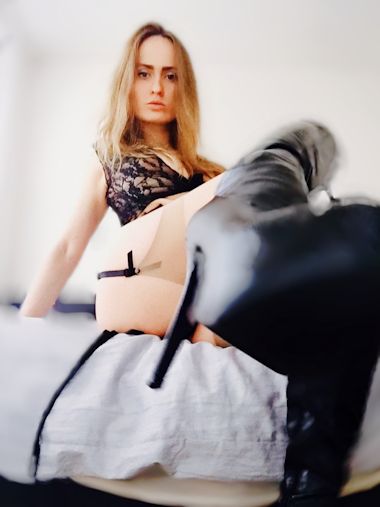 UKAdultZone: What are the things You most like and dislike in a slave?
Miss Ela Winters: Discipline. I love a good boy. The ones who misbehave and lose control see me lose my temper… Viking and Russian blood in my veins shouldn't increase in temperature at all, or if it does, then a stream of dominant force will flush the cheek away in seconds. Undisciplined learn discipline with me very fast.
UKAdultZone: What song do you listen to that makes you feel strong?
Miss Ela Winters: I mainly listen to classic Jazz during my play time… But there are few songs that make my blood rush and they all are by wonderfully trashy feminist Peaches.
UKAdultZone: What are Your favourite gifts from a slave?
Miss Ela Winters: As an Aquarius by zodiac I appreciate freedom of choice… I always prefer cash gifts on top of the tribute as only I my self can get the gift I like.
UKAdultZone: What advice would you give to a novice who has never visited a Mistress before?
Miss Ela Winters: don't ask too many questions before the actual meeting with your mistress… It's not a product you are shopping for… It's a tailored experience.. Your presence is needed to create something suitable for you. You will only make it appear more unclear for your self if asking too many questions. Tell about your self instead of asking about your mistress… Most of the info is usually written on Mistresses website anyway… If you still don't understand something, that means you have experience it to understand. Too many questions are not helpful.
UKAdultZone: Do You own any 24/7 slaves?
Miss Ela Winters: I don't have full time slaves and I don't have time for that. It would also be very expensive.
UKAdultZone: What about those slaves looking for a long term serious commitment of slavery to You. What would be Your requirements of such a slave?
Miss Ela Winters: Only requirement would be discipline and funds. Mistress can get bored of her subs too, so you would have to keep me if not happy, then comfortable, if you want to be in my presence on regular basis and for a long time.
UKAdultZone: How do you make use of Social Media or is it something you don't have time for?
Miss Ela Winters: not a big fan of soc media.. Twitter is the only one I use and mainly for networking with people in BDSM community.
UKAdultZone: How can someone find more details about you and how to serve you?
Miss Ela Winters: I'm currently working on my website. So my info can be found on here on UK Adult Zone or Twitter @MissElaWinters
Miss Ela Winters
07759933569
View My Profile at UK Adult Zone