Mistress Jane is a Reading Mistress with a talent for creating the ultimate client experience. We caught up with this wonderful Dominatrix to find out a little more. In this interview you can learn more about this Lady and what it takes to serve Her.
An interview with Mistress Jane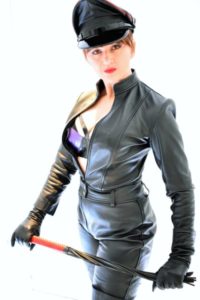 UKAdultZone: Would You kindly tell us a little about your background and how you became involved in Domination?
Mistress Jane: I have worked in the Adult industry on and off since the mid 1980's. I seem to gravitate towards it for whatever reason? Moving down South in the early 90's, I started to explore the fetish scene. I frequented Torture Garden and a few other fetish clubs Fantasia and Wicked. I was hooked and soon started to experiment. It wasn't until 2009 that I chose to become a Pro Domme.
UKAdultZone: What advice would you give to slaves who wish to serve you?
Mistress Jane: For starters, I hate the phrase 'slave'. I would say a good place to start would be to read my site. Digest ALL of the information and only then are they equipped to make an informed choice as to whether I would be the right play partner/instigator for them. I don't take on every prospective client that contacts me. I have to feel we are compatible and I hope they do too. I see male clients who are kinky or submissive or both. One doesn't have to be a submissive to want to experience BDSM.
UKAdultZone: Will you work from a script that someone brings to you when they meet with you?
Mistress Jane: It all depends on how detailed the script is? It does say on my site to 'Keep your scenario brief to the point as I don't wish to receive 1000's word essays'. I can usually get the gist of what a client wants within a few sentences and we haven't had any complaints so far. When a client arrives, we have a pre session chat to iron out any creases so to speak. Here they get to raise any issues and discuss their scenario a little more in depth. Having this discussion allows me to get in to their head a little, it also gives them time to relax before we begin.
UKAdultZone: What are your favourite types of session?
Mistress Jane: I have many favourites; it all depends on the day. To me it's a matter of being prepared, forearmed is forewarned. Everything listed on my services page are my favourite things to do, however there is also list with things I don't offer. Because most sessions are pre booked it allows me to prepare for that particular scene or scenario. So, if it's a rubber medical session I will prep everything the night before. My outfit will be ready, I will have a printout detailing my client's scenario and BDSM interests and the tools for that particular session will be set up and ready to use. Preparation is the key for me.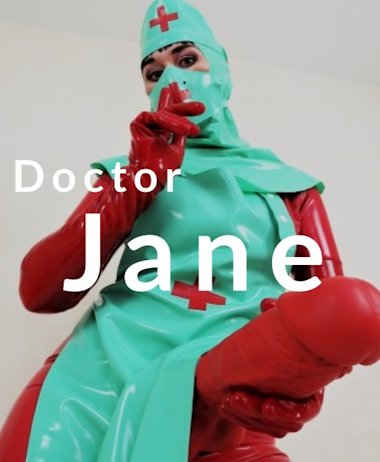 UKAdultZone: Do you attend any clubs relating to BDSM/Fetish lifestyle?
Mistress Jane: Been there done that…yawn!
UKAdultZone: What do you prefer to wear during sessions and what do most subs prefer to see you wear?
Mistress Jane: Again, it all depends on what session type I have. After all there's no use in a client coming for a latex session and expecting me to be wearing latex only to find me in a leather dress. Some clients aren't fussy and then I get to choose what to wear. At the end of the day I am a service provider. There is a huge amount of input from the client and sometimes he may request a certain outfit of which I am happy to wear to enhance his experience. To me, it's all about the client and his enjoyment. After all let's not forget he's the one paying right!
UKAdultZone: How would you describe your style of dominance?
Mistress Jane: I don't like to shout, scream or swear, nor am I one of those 'Mistresses' that has you crawl on all fours grovelling and licking her shoes for 30 mins of a session. I'm much more in to the technical side. By that I mean using lots of gadgets and toys. I'm a kit junkie I suppose and as I have loads of kit, I like to use it. I see myself more as an instigator to kink. The client gives me his fantasy/ scenario or his session interests. I set the scene and control it to the end. It's a bit like being the director of my very own theatre. I'm given the idea; I build a whole scene from that idea and the play begins. Most of the clients I see come for a few hours of immersive escape and that's what I give them with a few added twists.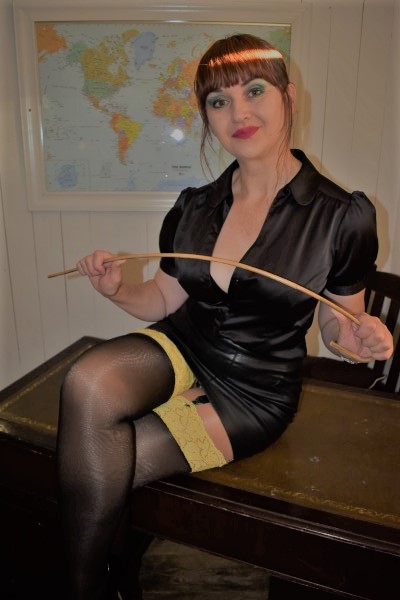 UKAdultZone: Do you also offer other services such as phone domination, email/online, training?
Mistress Jane: No, I don't have the time.
UKAdultZone: What are the things You most like and dislike in a slave?
Mistress Jane: I like a client who goes along with what is happening to him during a session. One that moans with pleasure or pleads mercy when he's reached his limit. A client who can laugh and not take things too seriously although there is a time and a place. I dislike it when a client lays there motionless like a corpse. I feel like shaking them!
UKAdultZone: What song do you listen to that makes you feel strong?
Mistress Jane: I don't need a song to make me feel strong, do I ?? 😏
UKAdultZone: What are Your favourite gifts from a slave?
Mistress Jane: I don't have an 'Amazon Wishlist' and I don't ask clients for gifts and nor do expect them! It's enough that they have chosen to take time out to come and session with me, that to me is more than enough.
UKAdultZone: What advice would you give to a novice who has never visited a Mistress before?
Mistress Jane: My advice would be to find a Mistress that caters for your interests. Read her site thoroughly and then follow her booking procedure. Perhaps drop her a line, put all of your questions in one email. Or ask what you need to ask in one phone call as a pet hate for most Mistresses is a game of email or text ping pong.
UKAdultZone: Do You own any 24/7 slaves?
Mistress Jane: I don't have a live-in slave and I'm not looking for one either. I have one collared sub who is in permanent chastity. I have many long-term regular clients and that suits me just fine.
UKAdultZone: How do you make use of Social Media or is it something you don't have time for?
Mistress Jane: I use Twitter @MistressJane3 and Instagram and that is that. I don't have hours to spare for social media.
UKAdultZone: How can someone find more details about you and how to serve you?
Mistress Jane: Go to my site www.mistress-jane.com and read it thoroughly. Read my blogs too. You can take a peek at my twitter timeline. This is where you will get more of a feel for what I offer. You will also find some free clips where you can see me in action.
You can view Mistress Jane's profile to find out more and visit her website.