Leicester offers up some super delights for those of you with a submissive streak. We catch up here with a delightful Leicester Mistress with a wicked streak. Read on to find out more about Mistress Lenna and how you might come to serve Her.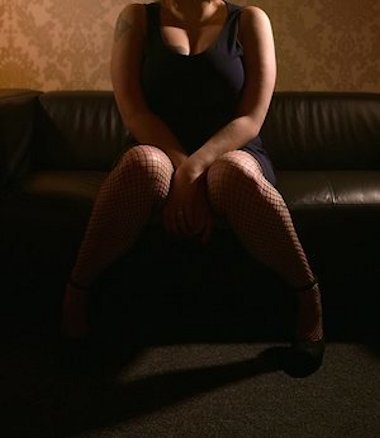 UKAdultZone: What advise would you give to slaves who wish to serve you?
Mistress Lenna : Don't try and bottom top! I'm quite a generous and empathetic Mistress but I don't like people posing as submissives who are actually really really bossy. Its not a healthy dynamic, so I prefer those who, working within safe, sane and consensual boundaries, are happy to let go of control of the encounter.
UKAdultZone: Will you work from a script that someone brings to you when they meet with you?
Mistress Lenna : No. How I work is you give me your list of things you are happy to do, and things you are not happy to do, and your preferences, and I give you a safe word and we go from there. A minute by minute script is not something I'll work with because I never enjoy those sessions.
UKAdultZone: What are your favourite types of session?
Mistress Lenna : Well diversity is itself probably my favourite thing, but I have a soft spot for sissification.
UKAdultZone: What do you prefer to wear during sessions and what do most subs prefer to see you wear?
Mistress Lenna : I'm generally more of a lingerie (black lace and stockings!) or smart day wear Mistress, but I am partial to a nice PVC dress. I have a large, firm behind so I get a lot of ass worshippers and they love skirts with no knickers on underneath…
UKAdultZone: How would you describe your style of dominance?
Mistress Lenna : Goddess worship, quite nurturing and generous but I don't stomach brattiness or crap so I can also be quite punishing.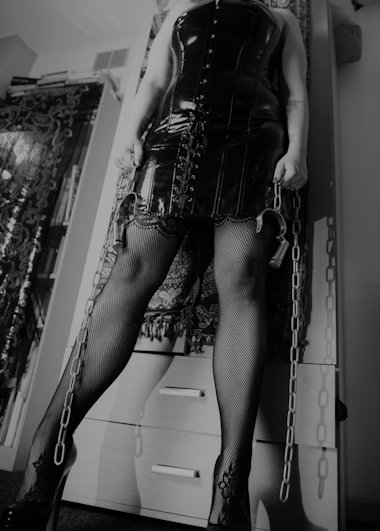 UKAdultZone: Do you also offer other services such as phone domination, email/online, training?
Mistress Lenna : No at present
UKAdultZone: What are the things You most like and dislike in a slave?
Mistress Lenna : I live full open submissiveness, politeness and generosity.
UKAdultZone: What song do you listen to that makes you feel strong?
Mistress Lenna : I listen to a lot of trip hop and classical when I'm with submissives. I don't need to feel strong so much as escaped from the more tedious daytime 'realities' so mood music is my thing. Nouvelle Vague's version of Master and Servant is good too 🙂
UKAdultZone: What are Your favourite gifts from a slave?
Mistress Lenna : French Perfume, Vegan Chocolate, Good Books, Black Lace underwear, Body Cream.
UKAdultZone: What advice would you give to a novice who has never visited a Mistress before?
Mistress Lenna : Start slow. Pick a few games you really know you'll enjoy and ask to explore them. Be clear about your likes and dislikes and always be polite and deferential.
UKAdultZone: Do You own any 24/7 slaves?
Mistress Lenna : No I wish I did but I simply don't have the time at present.
UKAdultZone: What about those slaves looking for a long term serious commitment of slavery to You. What would be Your requirements of such a slave?
Mistress Lenna : I get asked this a lot but have never had a generous enough offer. I do like having serious commitment slaves but the level of emotional energy needed is quite high and would mean me giving up some paid sessions so the financial offer would have to be pretty generous. I'd also need to 'click' but thats harder to quantify.

UKAdultZone: How do you make use of Social Media or is it something you don't have time for?
Mistress Lenna: I don't! Social Media is bad people.
UKAdultZone: How can someone find more details about you and how to serve you?
Mistress
Lenna : My website to start https://leicesterlenna.com/
View Mistress Lenna's Profile and Arrange a Visit Here