Getting to know a little more about the very attractive Miss Jessica Wood has been a pleasure. This Watford Mistress was a former glamour and fetish model, perhaps some of you will recognise this Lady.
With no more ado, let's get on with it and find out a little more about this Lady. I know you will want to meet her in person.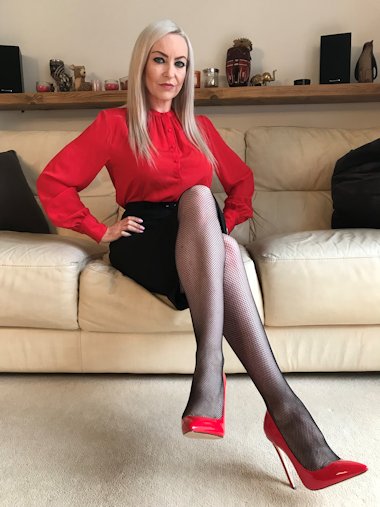 UKAdultZone: Would You kindly tell us a little about your background and how you became involved in Domination?
Miss Jessica Wood: I was doing glamour and fetish modelling and this website called Strict Ladies [specialising in corporal punishment] contacted me to do a shoot for them. I had done loads of different types of shoots prior to that, like bondage, latex fetish, WAM, etc, so I thought it sounded interesting and I'd give it a go. So I went up there and it was brilliant. They thought I was a natural at it, I had really good aim and that I had a presence that came across well. That was just spanking people so I started doing a few shoots for them. At the same time Nikki Whiplash had started some websites of her own, specialising in Femdom wrestling, face sitting and ball busting and she asked me if I wanted to work for her, so again I thought I'd give it a go, and again, I loved it all. Then it snowballed from there.
UKAdultZone: What advise would you give to slaves who wish to serve you?
Miss Jessica Wood: Apply via my website, I have a contact form with various details to fill in with drop down boxes to make it as easy as possible. I just want to know clearly what people want in a session and if I would be up for it or not. If people have filled in everything correctly then I will get back to them, but if people only fill in half the form and don't make an effort and are very vague then I won't bother replying. I only want to see people with some intelligence that are capable of putting together an email at the very least.
UKAdultZone: Will you work from a script that someone brings to you when they meet with you?
Miss Jessica Wood: Yes I will but I will always discuss a session fully with a client BEFORE they come. I'm happy to look at ideas but they need to be kept to a maximum of 2 sides of A4. I'm happy with key phrases that want to be said and an order of events if a roleplay scenario and if it is very detailed, then I can print out the session request and follow it in session. In fact, there is one gentleman who I do this for every session, what he wants and timings/change of implements/punishments etc is so detailed so to get it right I just follow it whilst it's printed in session.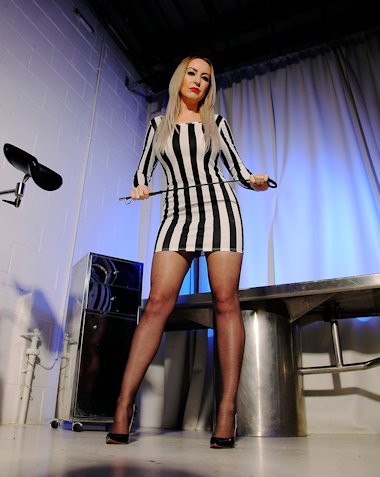 UKAdultZone: What are your favourite types of session?
Miss Jessica Wood: I love roleplay scenearios of any kind and corporal punishment and facesitting are my favourite ways of punishing people.
UKAdultZone: Do you attend any clubs relating to BDSM/Fetish lifestyle?
Miss Jessica Wood: I have been to Torture Garden, Club Rub and Pedestal and the best event I've been to was Wastelands in Amsterdam, that was something else! I don't get much time these days to go much though.
UKAdultZone: What do you prefer to wear during sessions and what do most subs prefer to see you wear?
Miss Jessica Wood: I either like wearing pencil skirts and blouses or lingerie with corsets. I don't mind what subs wear as long as they're comfortable. They can be naked if they want or in casual clothes or a suit!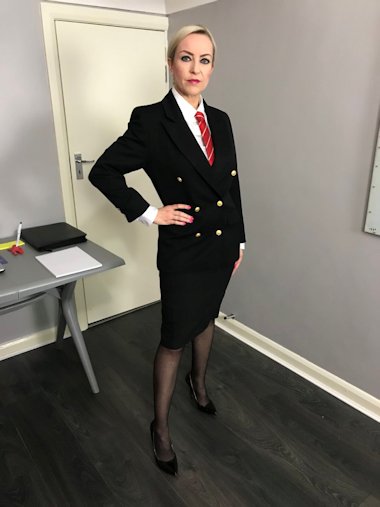 UKAdultZone: How would you describe your style of dominance?
Miss Jessica Wood: Elegant, classy and strict but fair with a touch of amusement. I'm also not a shouting/swearing dominatrix unless you specify that as a request.
UKAdultZone: Do you also offer other services such as phone domination, email/online, training?
Miss Jessica Wood: Not usually and that's just because I'm so busy but I have been considering doing webcam domination. Generally though I prefer having people with me in the room, I think there is more point to it then, but appreciate people may not always be able to see me in person as they may live far away or are very new to the scene, so this is why I have been considering the webcam option. So keep an eye on my website for details!
UKAdultZone: What are the things You most like and dislike in a slave?
Miss Jessica Wood: Like: Gifts, Politeness, Conciseness, Organised
Dislike: Smelly, Non-reactive, Over-emailing/Harassing, Arriving early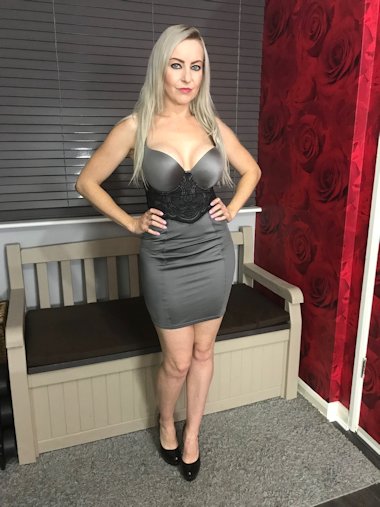 UKAdultZone: What song do you listen to that makes you feel strong? – can we delete this one as can't think of anything as I love dance music so I don't really like "songs"
UKAdultZone: What are Your favourite gifts from a slave?
Miss Jessica Wood: Perfume & massage vouchers
UKAdultZone: What advice would you give to a novice who has never visited a Mistress before?
Miss Jessica Wood: As above, fill out session requests properly and think about what you actually want to do in a session. Then furthermore, in reference to emails, a lot of people will bombard me with emails if I don't reply straight away and that really irritates me because I will reply when I can. I don't need another 3 or 4 emails added on top of your original email because I haven't got back to you in 10 seconds. That puts me off wanting to see people if they do that with me.
UKAdultZone: Do You own any 24/7 slaves?
Miss Jessica Wood: No I don't have time
UKAdultZone: What about those slaves looking for a long term serious commitment of slavery to You. What would be Your requirements of such a slave?
Miss Jessica Wood: To not be like my dislikes and like my likes! Basically don't annoy me and you will get to stay around. I have few slaves you had been around 10 years + now.
Q. How do you make use of Social Media or is it something you don't have time for?
Miss Jessica Wood: Yes I use Twitter and Instagram https://twitter.com/missjessicawood and https://www.instagram.com/missjessicawooduk
UKAdultZone: How can someone find more details about you and how to serve you?
Miss Jessica Wood: I have my original site, Miss Jessica Wood and then my Facesitting Mistress site also. Furthermore, I have my two clip4sale sites if you want to see me in action before visiting.
www.facesittingmistress.co.uk
http://clips4sale.com/11839/
http://clips4sale.com/store/39691/
View Miss Jessica Wood at UK Adult Zone Here