It is very rare that we meet a Kent Mistress with a repertoire as broad as that belonging to Countess Dionysus. Offering services worldwide and specialist fetish options available for those that enjoy something a little more extreme, this Lady is one of a kind.
This Mistress Interview is your chance to get to know a little more about the Countess and how to arrange to meet and serve Her.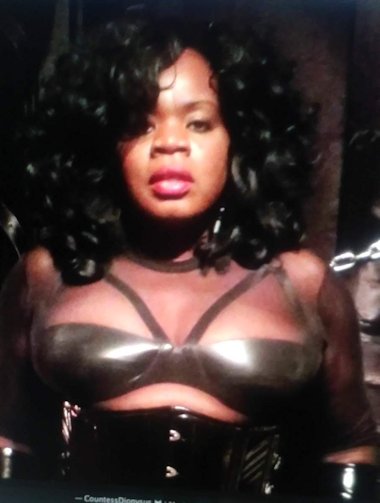 UKAdultZone: Would You kindly tell us a little about your background and how you became involved in Domination?
Countess Dionysus: My introduction to the lifestyle and scene started on a whim. I was invited to a party at The Vault, a notorious now defunct S&M club once located here in NYC.
At the time I had no idea this kinky enclave was such a well known private playground enjoyed by celebrities and kinksters alike. I was instructed by My girlfriend to dress in leather or all black.
Given that choice, of course I was going to pull out all the stops and dress in head to toe leather. Still not knowing what to expect I arrived ready to party…or so I thought.
Upon walking into the club I was approached by one of the many naked bois walking aimlessly in the dark. After kneeling at My feet and introducing himself he presented this strange and unknown implement made with a beautifully tooled wooden handle that encased long strips of leather.
Still not sure what to do I was encouraged by My girlfriend to accept his request to be flogged. In an instant My life changed. With each stroke and cries of
"Flog me harder Mistress, please flog me harder"
I got more and more excited. That night Mistress Janine was born! Years later I changed My name to Countess Dionysus after I evolved and accepted FemDom and the Gynarch philosophy as My religion per se.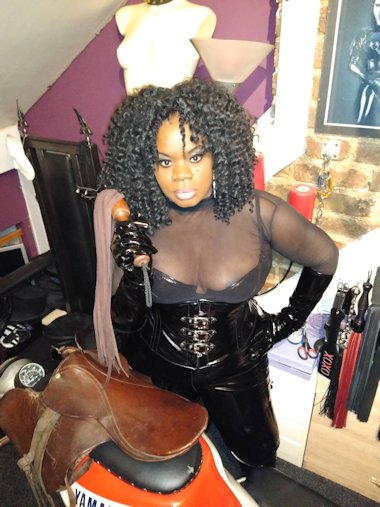 UKAdultZone: What advise would you give to slaves who wish to serve you?
Countess Dionysus: The best advice I could offer any slave who wants to serve Me is to be realistic and honest about his abilities to serve. My bois are humble, articulate, generous, intelligent, well bred, polite, confident and accomplished. They know their secrets and vulnerabilities are safe with Me.
The D/s bond has the possibility for developing into a deep and meaningful relationship. Therefore I insist on complete transparency. Nothing can be hidden from Me.
There are NO mysteries between a Domme and Her slave. I make it understood from day one that I am to be approached on a cerebral level and the most important rule to remember is that true servitude has no bounds.
For example one is serving whether he is flying Me to Greece or licking My boots clean. Service is service! I am attracted to bois who understand and embrace this principle.
UKAdultZone: Will you work from a script that someone brings to you when they meet with you?
Countess Dionysus: I welcome scripts but I will NOT base a session entirely on it's use. I instead prefer to incorporate My own brand of Dominance and creativeness so that I can develop an unforgettable experience. That unforgettable experience is what will bring said slave back for more!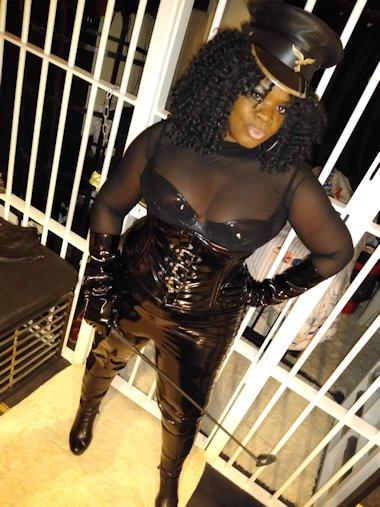 UKAdultZone: What are your favourite types of session?
Countess Dionysus: My favourite sessions by far are the ones that allow Me to introduce new kinks or fetishes for the first time. I enjoy looking into the wide eyes of a boi and knowing that I have successfully and respectfully pushed his limits.
Watching him evolve in his submission to Me is truly gratifying. I am quite passionate about extreme corporal, FTT, CBT and outdoor sessions. I also has access to a pool which allows for the amazingly rare opportunity to perform water bondage. I welcome all takers!
UKAdultZone: Do you attend any clubs relating to BDSM/Fetish lifestyle?
Countess Dionysus: I enjoy attending parties and events at kink friendly clubs. Unfortunately the political powers that be have really put a damper on the scene here in the USA. I welcome the chance to travel abroad to London, Berlin or Amsterdam in an effort to have My kinky thirst quenched.
UKAdultZone: What do you prefer to wear during sessions and what do most subs prefer to see you wear?
Countess Dionysus: I always wear fetish gear when in session. There's just never an excuse NOT to dress the part. Because I have a voluptuous figure My subs prefer to see Me in gear that accentuates My curves which is usually anything skin tight.
UKAdultZone: How would you describe your style of dominance?
Countess Dionysus: I am university educated and don't have a problem with using My intelligence, experience and sophistication to lure naughty bois into My kinky web.
As a seasoned Domme I embrace and practice the ideology of Female Supremacy in and out of the dungeon and truly believe that Women are far more superior than men. At the moment I list Myself as a Sadistic FemDom, although I am capable of toning it down for bois who identify as kinksters or are less hardcore.
UKAdultZone: Do you also offer other services such as phone domination, email/online, training?
Countess Dionysus: Absolutely. I offer real time, extended hours and overnight sessions by appointment only at My private lair in NYC.
For those bois who are unable to travel for whatever reason, I offer online, Skype, WhatsApp, Google Hangouts and phone sessions also by appointment. Keyholding service is also available for bois who desire long distance chastity training. "Dirty Little Secrets" was created so that bois could purchase My worn or used panties, stockings, socks, chewed gum, spit, slippers, shoes, boots, etc.
Finally, the very popular "Fly Me To You" service is available for those bois who possess the financial resources to host My visit (3 day minimum) in their home country, favorite vacation spot, onboard a yacht, etc. 48 hour notice is required for this service.
UKAdultZone: What are the things You most like and dislike in a slave?
Countess Dionysus: I have an extreme disdain for slaves who find it convenient to lump all Dommes in the same category. I believe some find it easier to do this rather than getting to know the Domme on an individual basis. The latter might ultimately expose him as a switch, time waster, troll or worse.
I am not a little girl who is satisfied with $5 gift cards or having a fish & chips lunch reimbursed. My taste run a lot deeper than such miniscule offerings.
Instead, I prefer slaves who take the time to solicit the necessary information regarding My wants, needs and desires. Such behavior reveals their maturity as a slave, reinforces their submissive role and their willingness to please Me.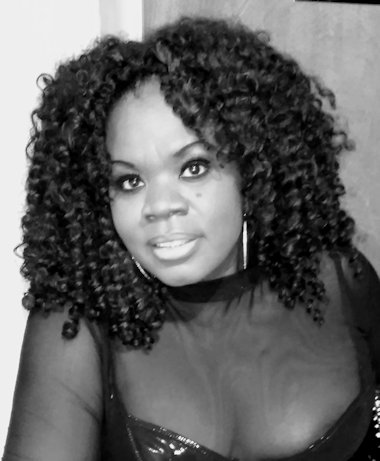 UKAdultZone: What song do you listen to that makes you feel strong?
Countess Dionysus: Anything by Simply Red, Jill Scott, Sade, The Cure or Depeche Mode. I prefer to listen to classical music, Gregorian chants or German techno during sessions.
UKAdultZone: What are Your favourite gifts from a slave?
Countess Dionysus: Expensive jewelry, all inclusive vacations, AmEx or Visa gift cards, art books, opera/ballet tickets, horse riding/golf lessons, wine/whiskey subscriptions and spa packages.
UKAdultZone: What advice would you give to a novice who has never visited a Mistress before?
Countess Dionysus: I love it when a novice confesses that he's been following Me for years and has finally mustered up the courage to book a session. Get to know the Domme first by reading Her profile/website several times, follow Her on social media and perv…yes perv Her photos.
Paying close attention to Her gear, foot wear, jewelry, fetish clothing, makeup, etc. Remember your initial email must stand out from the hundreds She receives on a daily basis. Build up a mental dossier about Her habits, desires, passions, hobbies, etc.
This mental preparation will become invaluable when you are gift shopping for your special Domme. Be completely honest about your experience level, hard/soft limits, medical issues, drug use, marital status, etc. Finally book the session, submit a deposit, show up with the intent to serve HER, bring gifts (flowers, wine, new toy, book, etc.) and have an open mind.
Leave your ego at the door and watch your life change for the better. Remember the same way you can spot an inexperienced "Domme", We can easily spot a selfish, arrogant, self entitled prick who is only interested in having his needs satisfied. So be sure to make a great first impression.
UKAdultZone: Do You own any 24/7 slaves?
Countess Dionysus: I have four slaves who are currently owned by Myself. Unfortunately none are 24/7. Hopefully this will be rectified in the near future. I am however searching for a full time maid or domestic slave to serve Me here in NYC.
UKAdultZone: What about those slaves looking for a long term serious commitment of slavery to You. What would be Your requirements of such a slave?
Countess Dionysus: Once again before embarking on such a commitment a slave must be realistic about his capabilities and limitations. A long term slave becomes the property of his Mistress. To be used as She sees fit. It's not just about a signed contract between Mistress and slave.
The intended slave needs to commit mentally, emotionally and physically. Brands and tattoos could be used to denote ownership. Moving and relocating to another state or country maybe required.
What was once his now becomes Hers. This includes property, bank accounts, pensions, retirement funds, vehicles, etc. Once all of this is explained many potential slaves decide to rethink the desire to serve in such a capacity. Doing so requires years and years of trust building, servitude and preparation.
I am humbled by bois who can truly commit themselves at this remarkable level. It is indeed a testimony to the love and respect they have for their Domina and vice versa.
Q. How do you make use of Social Media or is it something you don't have time for?
Countess Dionysus: In the past I avoided social media like the plague. Recent revelations to family and friends have now made it easier for Me to use these platforms. I started a Twitter account last year and it's been an amazing tool to help Me connect with My Domme Sisters, fans and bois all over the world.
UKAdultZone: How can someone find more details about you and how to serve you?
Countess Dionysus:
WEBSITE/BOOKINGS at www.countessdionysus.com
TWITTER
@nyccollectiveof
@countessdionys2
CONTACT
countessdionysus@protonmail.com
USA 6468938771
UK 07513282675
View Countess Dionysus Profile Here