Madam Mysteria offers an intriguing combination of dominatrix and wrestler. Although not based in the UK, She travels frequently and arrangements can be made to session with this Lady in London.
So, let's catch up with this visiting London Mistress and find out a little more about Her and the services she offers.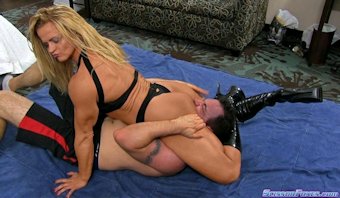 Interview with Madam Mysteria
From Madam Mysteria…
In a dark vault you will experience domination of strict, dangerous and charming lady. I will rule your body and soul with a whip in my hand. You will experience mystery, pain, fear and delight.
Come and win my favour. I require absolute obedience and punctuality!
During the first encounter we will meet over a cup of coffee where I will listen to your wishes and desires. Then you may kiss my shoes and I may accept you to be my servant. If you prove to be efficient and loyal I will allow you to apply for all-day and all-weekend stays.
I will bring you to obedience and you may become my personal slave.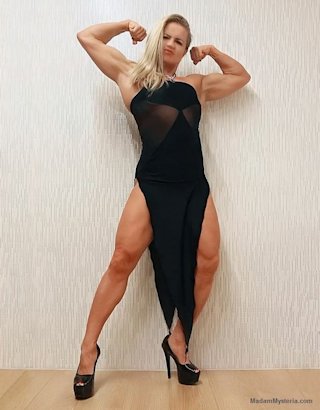 UKAdultZone: Would You kindly tell us a little about your background and how you became involved in Domination?
Madam Mysteria: I was a gymnast, circus acrobat, personal trainer in the gym, I competed in bodybuilding and power-lifting…..and then I needed a change. So I became a professional dominatrix and session wrestler, now already with 15 years of experiences.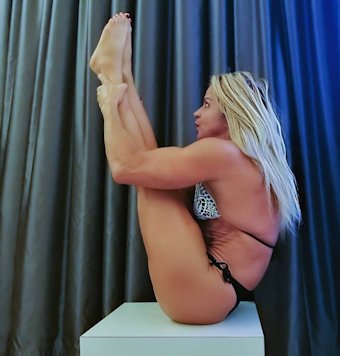 UKAdultZone: Will you work from a script that someone brings to you when they meet with you?
Madam Mysteria: Yes I like to work with scenarios after a correction what I can do or not.
UKAdultZone: What are your favourite types of session?
Madam Mysteria: My sessions are based on real physical domination, so overpowering, wrestling with submissions and then domination.
UKAdultZone: Do you attend any clubs relating to BDSM/Fetish lifestyle?
Madam Mysteria: No…
UKAdultZone: What do you prefer to wear during sessions and what do most subs prefer to see you wear?
Madam Mysteria: Most of my subs want see and feel my muscle, so black bikini.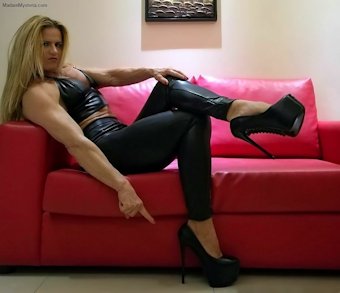 UKAdultZone: How would you describe your style of dominance?
Madam Mysteria: Power, whip and sugar
UKAdultZone: Do you also offer other services such as phone domination, email/online, training?
Madam Mysteria: Yes I offer online domination / slave training via skype or whatsapp
UKAdultZone: What song do you listen to that makes you feel strong?
Madam Mysteria: I am strong woman listening rock music.
UKAdultZone: What are Your favourite gifts from a slave?
Madam Mysteria: Dark chocolate, a bottle of good red wine or champagne.
UKAdultZone: What advice would you give to a novice who has never visited a Mistress before?
Madam Mysteria: Don't be shy and tell me your fantasy or fetishes.
UKAdultZone: Do You own any 24/7 slaves?
Madam Mysteria: I am not into 24/7 slaves.
UKAdultZone: How do you make use of Social Media or is it something you don't have time for?
Madam Mysteria: Of course I use Social Media as Facebook, Twitter, Instagram to communicate and share my photos and travel updates with my slaves and fans
UKAdultZone: How can someone find more details about you and how to serve you?
Madam Mysteria: Information about me and my service at my website at http://www.madammysteria.com and my UKAdultZone Profile here.