Miss Anna Phylaxis in Shropshire provides some welcome relief to slaves and subs willing to serve. This Lady will
work with you to make your fantasies of serving and submission to a powerful woman a reality. I want to get inside your mind to aid you in complete submission
Miss Phylaxis not only works alone bit also spends time with KIKKA_J and double Domme Sessions available from her Mid Wales Play Space.
We caught up with her to find out a little more.
UKAdultZone: Would You kindly tell us a little about your background and how you became involved in Domination?
Miss Anna Phylaxis: I've always been kinky, since I can remember. I've loved bondage and sensation play. I started in a submissive role, I was sub for many years. I decided to switch it up several years ago and I have never looked back. I love that I have been on both sides of the D/s equation and many newbies who session with Me are put at ease to know I've been where they are.
UKAdultZone: What advise would you give to slaves who wish to serve you?
Miss Anna Phylaxis: Be polite, address Me correctly, be honest and most of all be humble. There is nothing more attractive than a good submissive who wishes to do nothing but please.
UKAdultZone: Will you work from a script that someone brings to you when they meet with you?
Miss Anna Phylaxis: I will read the script, but I am not interested in acting, I go with the flow in My sessions it depends on My mood, My desires and My happiness… I am a lifestyle Domme as well as professional one, this is Me, and you get Me.
UKAdultZone: What are your favourite types of session?
Miss Anna Phylaxis: Now this is a big question… I enjoy all of My sessions to be honest. I feed off a sub's body language and reactions to the sensations I deliver… I love bondage, tying a sub down and filling them with anticipation and apprehension… the tease, the denial, the sensation… the control. I also adore sissies. There is something rather wonderful about caging their little clitties, getting them all dressed up and either watching them do My chores or doing a little catwalk for Me. Plus I love delivering a spanking. Chastity is divine, the control I have over a sub is wonderful.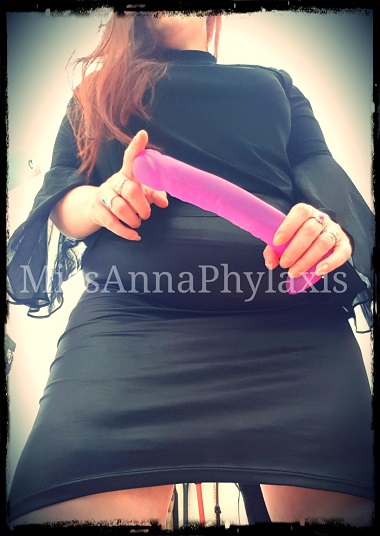 UKAdultZone: Do you attend any clubs relating to BDSM/Fetish lifestyle?
Miss Anna Phylaxis: Yes
UKAdultZone: What do you prefer to wear during sessions and what do most subs prefer to see you wear?
Miss Anna Phylaxis: It's not about what a sub wants Me to wear. I wear what I want! I love PVC and wet look, stockings, leather boots… just depends on My mood that day and what I am doing to be honest!
UKAdultZone: How would you describe your style of dominance?
Miss Anna Phylaxis: Sensual. I love to play with sensation and the senses.
UKAdultZone: Do you also offer other services such as phone domination, email/online, training?
Miss Anna Phylaxis: I offer many services. Chastity Keyholding, online sessions, online ownership, monthly ownership contracts, sub training, sissy training, Cam sessions, real time sessions, Duo Domme sessions with Kikka J.
UKAdultZone: What are the things You most like and dislike in a slave?
Miss Anna Phylaxis: Any slave I choose to taken on knows how much of an honour it is to be owned by Me, if I dislike anything, they are given one chance to right it, and only one… I do not keep subs on who I dislike… There would be no point.
UKAdultZone: What song do you listen to that makes you feel strong?
Miss Anna Phylaxis: I don't need a song to make Me feel strong. I am Strong! I have an eclectic taste… so there is no such thing as ONE song to describe a feeling or emotion. I prefer rock and electro for sessions. From The Doors to Nine Inch Nails or some Led Zeppelin to Prodigy…
UKAdultZone: What are Your favourite gifts from a slave?
Miss Anna Phylaxis: If a sub wishes to make his way into my good books, a bespoke Gin, or a beautiful bunch of lilies, or Bird of Paradise, Sunflowers even… I do enjoy a bit of chocolate sometimes, but I prefer jelly beans, either that or a Good bottle or Organic Fairtrade Malbec.
UKAdultZone: What advice would you give to a novice who has never visited a Mistress before?
Miss Anna Phylaxis: When you contact, be polite, address a Dominant correctly, be humble. It isn't all about you! Remember, you crave the control, that's why you contacted in the first place. So obey orders, follow through with your promises. Remember to state you're a novice, honesty is always the best policy… A good Domme will discuss it with you either on the phone prior to meeting, or at the booking where you can have a face to face.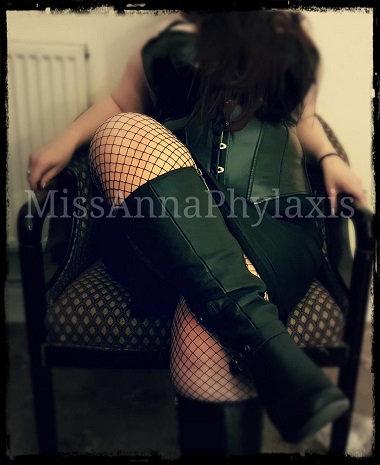 UKAdultZone: Do You own any 24/7 slaves?
Miss Anna Phylaxis: I have a lifestyle submissive. We do not live together. I also do not work from My home, this is my space!
UKAdultZone: What about those slaves looking for a long term serious commitment of slavery to You. What would be Your requirements of such a slave?
Miss Anna Phylaxis: A monthly tribute will be expected. Sacrifices would be made to Me, be it chastity, or daily rituals… You will be constantly aware who you have given yourself to.
UKAdultZone: How do you make use of Social Media or is it something you don't have time for?
Miss Anna Phylaxis: I don't like social media as a rule. I use twitter (@MissPhylaxis) for updates on tours and showing off the underwear I have on that day (which is available to purchase). I'm also on Fetlife, although I don't use it frequently.
UKAdultZone: How can someone find more details about you and how to serve you?
Twitter @MissPhylaxis and email MissAnnaPhylaxis@protonmail.com
View Miss Anna Phylaxis Profile and Contact