Brighton Mistress Purdey was kind enough to take some time our of her busy schedule to answer a few intimate questions. If you are a sub in Brighton or visiting the town then this is a must read interview with one of the finest Dommes available. Enjoy a mind blowing session in her Brighton dungeon. Whether it is adult baby, cross dressing, corporal punishment or role play you can be sure to find the right Mistress at UK Adult Zone.
Getting to Know the Fabulous Mistress Purdey
UKAdultZone: Would You kindly tell us a little about your background and how you became involved in Domination?
Mistress Purdey: I purchased my first set of handcuffs when I was 17 to use with my first boyfriend. I have had a keen interested is most aspects of BDSM since then. 5 years ago I was approached by a blue chip gentleman via a dating website and asked if I would be his lifestyle Dom. It was a fabulous experience for us both. After that came to a natural end (he moved to Sydney) I found I had naturally become Mistress Purdey. I had honed my skills and was ready to replace him.
UKAdultZone: What advise would you give to slaves who wish to serve you?
Mistress Purdey: Be courteous, polite, punctual, willing and able.
UKAdultZone: Will you work from a script that someone brings to you when they meet with you?
Mistress Purdey: If that is a clients requirement then I will work from their script. Most clients give me a general idea of what they want from a session and allow me to free style. However I am conscious that the client is paying for a service.
UKAdultZone: What do you prefer to wear during sessions and what do most subs prefer to see you wear?
Mistress Purdey: I love dressing up and am happy to accommodate many different styles, most subs seem to like the classic black heels, stockings and suspenders, short dress/skirt, if they are having a medically based sessions the same but….. in white.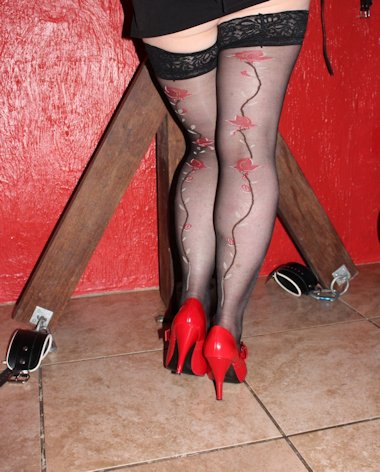 UKAdultZone: How would you describe your style of dominance?
Mistress Purdey: Sensual but strict, demanding and deviant, caring yet commanding.
UKAdultZone: What song do you listen to that makes you feel strong?
Mistress Purdey : All sorts, but a favourite is : 1812 overture by tchaikovsky
UKAdultZone: What are Your favourite gifts from a slave?
Mistress Purdey: I generally prefer gift cards from certain retailers.
UKAdultZone: What advice would you give to a novice who has never visited a Mistress before?
Mistress Purdey: Have at least a vague idea of what kind of experience you wish to have, i'm not quite a mind reader.
UKAdultZone: Would you ever session without a safe word?
Mistress Purdey: NO WAY, rookie mistake. Safety is key.
UKAdultZone: Do You own any 24/7 slaves?
Mistress Purdey: I have one gentleman whos life outside of work time is mine to dictate his moments via an online calendar. At lunchtimes he has certain tasks to complete within strict timelines.
UKAdultZone: How do you make use of Social Media or is it something you don't have time for?
Mistress Purdey: I am on Twitter.
UKAdultZone: How can someone find more details about you and how to serve you?
Mistress Purdey : my website is available at mistressdominate.com or you can email me at purdeyhoney@hotmail.co.uk
View and Contact Mistress Purdey at UK Adult Zone: VIEW PROFILE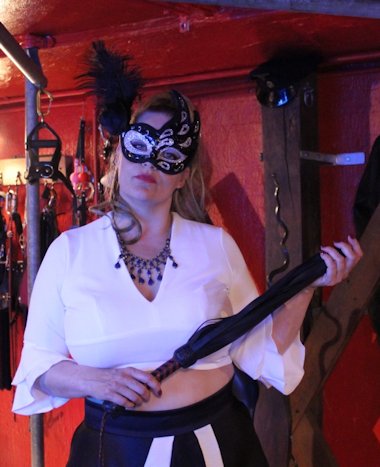 Thinking of visiting Mistress Purdey?
If you are a into adult baby or role play or maybe even cross dressing or corporal punishment, you can get a great deal of satisfaction from a visit to a professional Dominatrix. Mistress Purdey is a genuine Mistress who will be happy to discuss any scenario with you in person at her Brighton Dungeon.